It's Wednesday! I don't know about where all of you guys here but we have a chance for flash flooding and snow all in the same day, joy right?
First of all HELLO to my new followers and thank you so much for following along with me through my journey! :)
Also, long story short the boy wasn't feeling too well last night so movie will have to be another day. Oh wells. I treated myself to Applebees 550 calories or less garlic sirloin with potatoes and spinach filled mushroom cap. It was AMAZING. Never had it before and def would get it again.
Anyways today is WIW with my girls
Erin
and
Alex
! Today I will be discussing weight, workouts, and updates.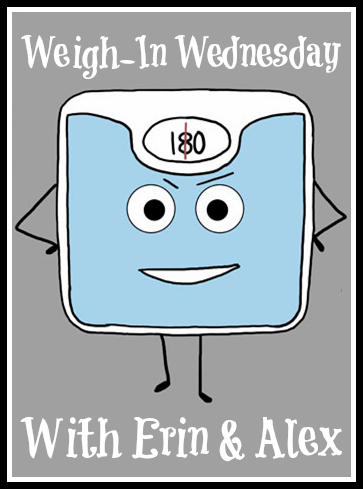 Weight:
Ok, so I promised you guys I would stop weighing myself every single day because it can get overwhelming and depressing. However, when I got on the scale this morning and saw .2 loss since Friday, my heart sank. I have been working out everyday keeping up with my Hal Hidgon's training and doing JM RI30 on my off days. I have been eating very clean (around 1200 calories a day) cutting out most processed foods, sugar, bread, cheese, dairy etc. AND in the last two weeks I only had pop last friday, and that was even diet. And I've been drinking over 90oz of water every single day.
It's just so depressing. I know I can't give up, I know I have to keep pushing but I don't know what to do from here. I've never been this dedicated and just stopped at the same number on the scale. I know the scale isn't everything but I still have quite a bit of weight to lose and I don't feel like I am at the point where its the last little bit to lose or anything.
Also, not to give too much TMI but I started last night. The time of the month. So I don't know if that has anything to do with it. I am going to monitor this number closely I dont know if Ishould up my calories, up my workouts, both? neither? We'll see. Hopefully this is the reason why and I will start seeing that number go down once this time of the month is over. Any one have any thoughts?
Workouts:
In other news I am doing fab on my workouts. I am getting in all my Hal Hidgon's 5k training runs. I ran 2 miles last night. I had to stop once, but still I finished it and I am proud of it. I know it is just going to get better.
I haven't added my sticker for yesterday's workout yet :) See those little JM in the bottom right hand corner of the boxes for this week? that is when I am doing JM
JM. I originally planned to do RI30 everyday this month. However, now I am doing it on my off days of not running to get my strength training in. This has bee nworking for me as I can look forward to doing something different every other day, however with the scale not moving I think I may have to go back to doing RI30 everyday. I'll just have to play around with it and see.
Also, I sucked at keeping up with her last week so I am redoing level 2 even though I hate it. I know I will be able to move on to level 3 by next week and am so excited to get out of level 2 haha
I know there will be ups and downs of this journey as it is important to show all sides good and bad while going through my weight loss. I am not goign to beat myself up about it. I am not going to stop. I just need to turn this setback into a comback ( love this quote.)
This pic may look familiar to you (p.s you should follow me on IG @sheerserendipity28) I can't wait till I can hold up more numbers as I continue to push myself further and further. I have to stay positive!