Happy Hump Day!
It is Wednesday so you know what that means! Link up time with
Erin
and
Alex
for Weekly Weigh In!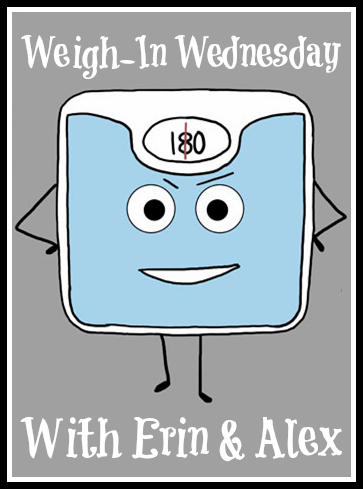 Ok so as most of you know I am not ready to share that number just yet. I have been weighing myself everyday since April 1. This worked for the first 5 days but now not so much anymore. It is really discouraging and it cannot tell you how hard you've been working sometimes. That being said I will start switching to weighing myself only once a week. Thats it just get on the scale once that's the number. Not weighing myself three times a day to try to get a lower number. It's been driving me bonkers.
However, I will say that I have lost a good amount so far :) I am hoping so badly I can be at my "first goal weight" by May 1 so I can share all of my results with you! When I reach this first goal weight I will be out of the overweight range. Then I can focus on my ultimate goal weight!
It's so close I can taste it. I just have to remember to keep pushing and give 100% I'll get there. Sometimes it's hard being patient because you just want your hard work to payoff NOW! But it eventually will. This is all part of the journey, the ups and the downs. You have to take the good with the bad and FIGHT for what you want!
Last night I had my 1.75 with Hal Hidgon's 5k training. It sucked. I struggled. I had to stop twice. But I didn't quit. I got it done. And it felt so good. Sometimes it's easy to get down on yourself thinking you could have given more once its over,but you just have to be happy with what you can accomplish.
I did it and that's all that matters. Running is a process as well as losing weight. I am hoping as I stick with it it will get easier and dare I say..perhaps...enjoyable? I can only hope for that. Stay Tuned!
In other news my ass is on FIRE! JM is one mean Biotch I hate and love her at the same time! It hurts to even sit down I feel like a 90 yr old, its like in slow motion when I go to sit down haha. But I can't help but smile knowing that her workouts are working! And over time I will get the results that I want and that I deserve! (Love you JM and your quotes :)
Ok ladies I need your advice I posted this on IG the other night (follow me @sheerserendipity28) and I think I pretty much have my mind up on the garmin 110. I've been looking for a watch so I can run outside and get away from the treadmill, something I've NEVER done! What do you all ladies think? Thoughts? Suggestions?
Have a great Wednesday!