Hello Lovlies! Today is this girls Friday and I am feeling good again.
First off, thank you SO MUCH for the OVERWHELMING outpour of support after my debbie downer post yesterday. Each and every one of your words means so much to me and inspires me to keep pushing.
I fall more in love with this little blogging community everyday and how everyone is rooting for each other and tips and tricks on how to stick it out. I LOVE YOU ALL is an understatement so THANK YOU!
Ok, and now on to the good stuff. Today I am linking up with the very fab Holly and Jake for finish the sentence!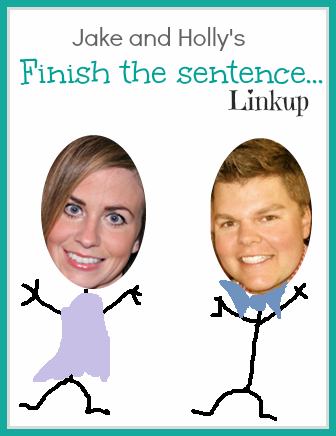 1. I laughed so hard I cried when... I read Hubby Jack's post yesterday about Laura from Walking In Memphis In High Heels. Seriously the BEST post I have EVER read. SO FUNNY!
2. My high school... was pretty cool. I don't have any horrible memories from it. I am still friends with a lot of my friends from high school and I really do miss the football games, tailgating and sleepovers
3. It really pisses me off... Lets be honest here, A LOT of shit pisses me the f off haha. Most recently is people that talk about themselves. It drives me crazy when people come up to you and start a conversation with you and then you start thinking why are you even talking to me? I haven't even said a word you're just talking to me so you can hear your own voice. SO annoying! Be real people! Aint nobody got time for that!
4. In ten years... I hope to be able to get to and sustain my goal weight. Be married and perhaps two children. I would also love to find a job I really enjoy that would make me happy. Actually I just want to be happy within myself, even 10 years from now.
5. If I could erase one thing...I wouldn't. Every bad memory, bad situation has made me the person that I am today. I am strong believer in everything happens for reason. Now do I wish some things should have happened differently? Yes but I wouldn't erase anything.
6. In 1999... I was ten years old. Was IN LOVE with NSYNC and Britney and was convinced that y2k was the end of the world
7. Honestly... I wish the weight I want to lose would just fall the f off but that isn't realistic. Honestly, I need to be a more postive person, and be more happy with where I am today.
8. To me, Sushi... its amazing! Love that stuff. BUT I can't eat with chopsticks to save my life! Wish I could though
9. Someone really needs to invent... a teleportation device. Seriously could save a shit ton of time.
10. The first time I drank alcohol... oh LORD! First time I drank alcohol I got wasted on smirnoff ice grape. NEVER again!
11. The one question I would ask God is... I wouldn't ask him anything. I would just thank him for being there.
12. Lindsay Lohan... needs to get her shit together. I mean really!? what happened from the parent trap, freaky friday and mean girls? Loved her then!
That's it for today lovlies! Sorry my answers aren't funny but at least they're honest :)