Happy Friday Lovies!
We made it!
Update on day 4 of the cleanse:
As some of you may know I went out to eat last night and I was such a good girl! Ok I had two chips with spinach and artichoke dip but I passed on bread and pop!
I am going to try to keep eating as I have planned all week. The weekend is the true test to see if I can do this! I have been weighing myself everyday and it is some GOOD stuff so far! Can't wait to share it with you all!
First up is link up time!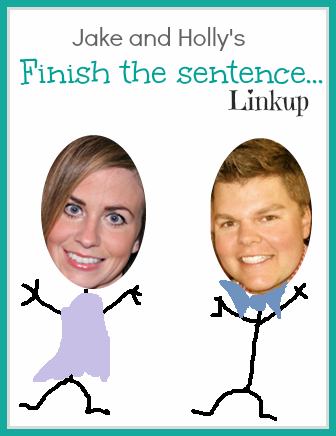 1. People always tell me.... I seem very quiet and reserved...until you get to know me..then all of that is OUT of the window
2. In the movie based on my life... Sarah Jessica Parker would play me..because that is as realistic as it gets am I right?
3. Typically, I end up regretting....Going out and drinking shots like water waking up and feeling shit afterwards and remind myself I'm not in college anymore
4. I always ask to leave off the....Tomatoes! Gross! love me some ketchup HATE tomatoes
5. Kim and Kanye really...need to have their kid on the show when it's born. I. cannot. stop.watching. them.
6. My Parents always reminded me...I could be anything I wanted to be.
7. Every single day I.....do the EXACT same routine when I get up in the morning. If I do something out of order and something bad happens that day I'll blame it on the switcharoo
8. This one time in College..me and my bestie trusted these guys we barely knew to take us to a party. The only problem was that there were too many people so we had to ride in the trunk. with the bass. for like 30 minutes in total darkness. Luckily I was a little tipsy otherwise I might have died from paranoia.
9. My grossest habit is...That I pick at everything I eat like a bird. I leave little crumbs with everything I touch
10. My latest white lie was...that I wasn't going to cheat AT ALL on this cleanse...oops
11. I know all the words to... every Britney, Xtina, Backstreet boys and NSYNC albums ever!
12. When I grow up... I'm never growing up. I will always be 18 in the back of my mind.
13. Sexy time is... Getting better the smaller I get and the more confident I become
14. I will never, ever...be able to do an entire shot in a shot glass. Put the shot in a glass I can take it straight back. In a shot glass I have to sip it because I just CAN'T take it all back
15. I think it's hilarious... That my dog can literally hear from another room which commerical is on and come spriniting in just to bark at it ( her favorite is the guy jumping on the trampoline with the phone not sure what the commerical is for. the tv isnt even up loud and she cant even see it and will sprint in just to bark) 
And now on the BEST part! In honor of reaching 100+ followers I am having my first giveaway to celebrate! The giveaway runs through Tuesday and will be announced on Wednesday. The only rule is that you have to be a follower of my blog ( that means click the little blue banner join this site on the right hand side of this page)
a Rafflecopter giveaway
That's all I got for today girlies! Can't wait to share more updates after the weekend on the downhill slope of this cleanse! can't believe I leave next Saturday for Mexico vaca!