Happy Tuesday Girlies!
Ok, so update on day 1 of advocare cleanse. It was honestly not as bad as I thought it was going to be. I ate all of my planned meals listed yesterday. The only KICKER was my and the bf went to Silver Linings Playbook last night and when we got to the theatre the second that popcorn smell hit my nose I wanted it like none other! I even thought about maybe if we just shared a small...maybe if I just got a kids pack...maybe I could at least get a pop?
But I am happy to say I did not do any of those things. It was hard but it was worth it! Now on to day 2. I did not end up working out yesterday which isn't recommended anyway since I went to the movie instead but whatevs. Back at it tonight! I also drank a shit ton of water and at about the 8th time peeing in the day I remember litterally thinking on the toilet I am SO SICK of peeing all of the time!
Day 2 eating schedule:
8:30 AM Fiber Drink and 8 oz of water
9:00 AM Two over easy eggs (only ate one yolk)
11:00 AM Oatmeal with cinnamon
1:00PM-Left over cajun shrimp and asparagas
3:00PM-Apple
5:00 PM-Grapes
7:00 PM- More shrimp and asparagus :)
9:00 PM- PM pills
I drink water all day long. If you know anything about me I hate water. I am basically using my food as a chaser to get my water done. If I chug as much as I can I get to reward myself with a bite of my meal at the time. Hey whatever works right?
I will be doing c25k tonight and ri30 so we shall see how the energy level is tonight. I am going to TRY to get up early tomorrow and get it done in the morning :/ I just keep thinking to myself it's only 10 days and in less than 2 weeks I can sleep in till whenever I want and do whatever I want on vaca :)
And now onto a link up I just HAD to do!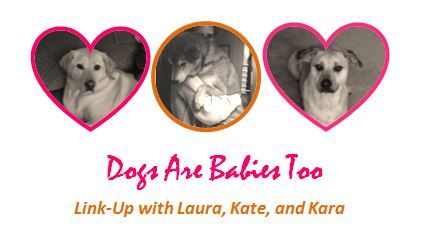 Anyone who knows me knows I'm OBSSESSED with my dog. Her name is lola and she is a 3 year old morkie (half maltese half yorkie) I didn't even want a dog but when my eyes and hers met I knew she had to be mine.
When we first got her the breeder said she wouldn't get over about 7lbs. I had never had a small dog before so I was pumped. I was going to dress her in bows and outfits and I even got her a blinged out silver doggie purse so that I could carry her around in! (sadly do not have it anymore for a pic)
However, the breeder was wrong. Fast forward to today, she won't keep any bows in her hair, she won't even move if you put an outfit on her and she weighs 13lbs now. I never even got to carry her around in the little doggie purse :( lol
oh well I still loves her so much and she really is the best dog. She has a huge kennel she sleeps in but I leave it open all of the time. And every morning after my first alarm clock goes off she jumps on my bed, comes up to my face and pats the covers like come on mom time to get up and she goes under the covers and lays down in between my legs for some cuddle time. Its my favorite time with her :)
Here is some more pics of this little love bug
How many of you guys are doing the cleanse? How did you think day one went? Any fur moms?