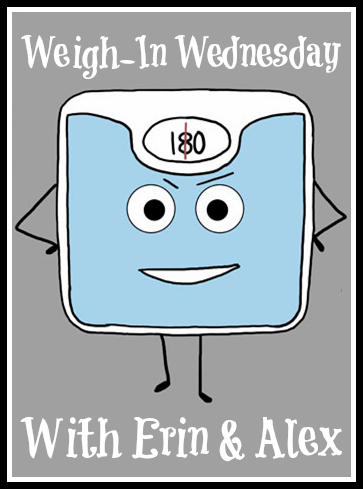 Today I am linking up with
Erin
and
Alex
! These two are great girls so go check them out!
As you may have known Friday was the first time I weighed myself since June 2012. I was so nervous last Friday thinking about what the scale would say. Sure I KNOW I have lost 4 dress sizes. I KNOW I've lost a ton of inches but I've always been terrified of the scale. I weighed myself first thing in the morning and the results are...
Pretty much around exactly what I thought. I've lost 30ish lbs. Is it bad that I wanted more? That maybe this time it would say oh you've actually lost 50lbs? I know that's probably not the realistic thing but I am happy I have finally lost weight. I have been putting in effort to become a healthier stronger version of myself. The best me that I can be.
That being said since friday, (and eating my face off on Sunday) as of today I am down .8 since last friday. I'll take it. But I think I 'll always want more. Also, true confession time. Have I been working out everyday? No. Have I been doing both RI30 and C25k? No. I've been doing what I feel is the bare minimum and the fact of the matter is that's just not good enough anymore. 30lbs ago it was but now I need to push harder.
My diet has been good.I usually have 1-2 cheat meals on the weekend but I don't go overboard. If were having pizza I'll have 2 slices not 5 like I really want. But this week I am challenging myself to do c25k and RI30 every single day until next weigh in. I know my dieiting has been good and mostly clean so now I just need to step up the workouts.
I just have to remind myself every single day..I used to look like this..
This was last spring break (obviously I'm the huge one in the black pants)
And now I look like this..
Jan 10 2013
But I want to look like this again..
Spring Break 2008
I want and NEED to see a good loss next week. One that I am proud of. I have come so far in the last 6 months and there is nothing more that I want then to have that body I know is in there somewhere come May 31st for OPERATION RED BIKINI! NO more excuses. That's what I tell myself everyday, just get off your ASS and do IT!