We made it to Friday once again ladies! Found an e-card that is just fab for today!
Sorry for the late post today but I just got home!
First up the Vday Recap. First off I found rawhide chew treats that are cards for dogs and just HAD to get one for Lola. I mean how cute is this?!? Sadly, she has no interest which I can't understand why its cute, its a card and she can EAT it.
Moving on I know you all are just DYING to see what outfit I chose right!? Haha I ended up going with the black one! I had to put it with leggings and boots as it started snowing last night and I wasn't about to freeze to death
We ended up going to dinner which was amazeballs followed by a hotel with a fireplace AND a jacuzzi. He even remembered to bring candles! Extra points! I had a great evening and if you follow me on instagram (sheerserendipity28) then these pics will be familiar. Below is all my fat girl goodness and I enjoyed EVERY second of it !
My girl
Taylor
and I were ready for this last night! Cheers girl! :) Seriously best wine ever. LOVE!
This is steak,potatoes, veggies and shrimp
And because I skipped on the pasta you know I deserved this right? SO GOOD!
And this was taken after dinner, I may or may not have had two, ok 3 glasses of wine. Sorry I'm not sorry!
And just for
Kate
's viewing pleasure some pics of the hotel room. This girl is stopping all social media except blogging for lent, I'm amazed!
And if that wasn't enough picture overload here's some more! Of my Fridge! Today I am linking up with
Holly
for what's in yo' fridge?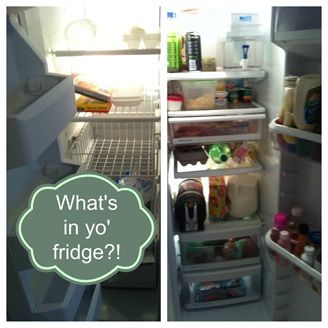 First off, I have two fridges so first up is fridge in the kitchen
I got my lunch box in there for work (side note it's the same one i've had since like 3rd grade, has my name on the inside and everything, don't judge me haha) Some staples include greek yogurt, eggs, fat free cottage cheese, olive oil mayo, coffee creamer, fruit and every single condiment you could ever imagine. Hey, this girl loves her some condiments.
Next up is outside fridge. These include over load that couldn't fit into the fridge inside and drinks. Some must need staples are beer( not mine) milk (not mine, gross) Diet Coke, Dr. pepper, Vitamin water zero, fruit and some diet cupcakes I made thanks sarah! Oh and see that turqoise container? Thats where I store my fajitas that I've been basically living off of for the last two weeks.
Sorry for the pic overload but I just had to share with you guys! You know what tomorrow is?? February 16. The official one month till vacation for this girl and you know what that means, Operation Red Bikini is on! NO more cheats! More workouts! Eating Clean! And trying toget as far down on the scale as I can before then!
Until then I'm treating myself tonight with Bride Day marathon and possibly some chinese. One last meal. Then it's good girl Kadi for the next month!
Have a great weekend guys! I can't wait to start buckling down on diet AND exercise with you all! Thank you so much for all of the love and support so far! I can't even tell you how much it means to me!