Happy Thursday People! Today I have a link up, a recipe and some info on my night :)
Today I am linking up with
KTJ
and
Lex
for non-scale victories!
First of all, I think non-scale victories are probably one of the most important things to recognize while you're on your own weight loss journey. The scale isn't everything as I should know as I dieted for the last 6 months and never once got on the scale.
I was completely guilty of getting on the scale when I was trying to lose weight before and if Ihad lost weight then that in my mind meant it was ok to eat whatever I wanted as a reward because I was losing weight anyways right? However, if I didn't lose weight I would get discouraged and then eat whatever I wanted because it wasn't working anyway right?
Sometimes the scale can have way too much power over your mind and that's just not how life should be. You have to enjoy the little things too :)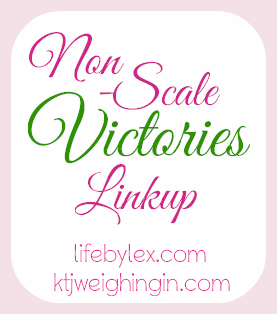 I have a few non scale victories this week. First, my cousin is getting married in September and my bridesmaid dress came in. The one I ordered a size down 8 weeks ago as motivation for it to fit. Well moment of truth...and that baby zipped! I was soooo happy! It's a smidge tight but hey I'll take it! Here is a pic of the dress...
Next, I did not want to work out on Tuesday and Wednesday Like NOT! All I could do was say I'll just get up and do it tomorrow, I'm tired, I don't want to etc. But then I checked my email and reread ALL of the support that I am receiving from YOU guys and you know what?! I got off my ass and did it! I MADE the time. I didn't FIND the time. You guys are so much inspiration and I WANT to see that scale move next week! PLUS I lost 4 inches last month...so whatever gets me in them jeans baby! (remember Genuine's song whatever happened to him?)
Tuesday
Wednesday! Yes In progress! I'll get there!
Next is a fajita recipe. Original Recipe found
here
I played around with it a bit and here is what I came up with
1lb chicken breast cut into strips
1 red, 1 yellow and 1 green pepper cut into strips
2 white or yellow onions cut into strips
1 tsp Veg Oil
1 tsp Cayenne
1 tsp Chilli Powder
1 tbsp Dried Oregano
1 tsp Garlic Powder
1/2 tsp Salt
Put the oil into a pot and toss the chicken in. Add half amount of each of the spices listed about (1/2tsp) and stir the chicken to coat. Brown for about 5-8 minutes for until chicken browned on outside.
Then put in onions and peppers, add the other half of the spices and cook for an additional 5-8 minutes or until peppers and onions are tender.
This is a pic I took when I made them first last week without red pepper
And wha la! 1 cup=170 calories! It's just enough heat and so easy. The original recipe calls to let meat marinate for 3 hours but who has time for that? I took shortcuts and I love it! I can eat this for lunch almost all week long and its the perfect amount of heat!
Well there ya have it! Almost the weekend people. Tonight I'm going to Spank which is a 50 shades of gray parody with the bestie. Anyone heard of it?? So out for mexican or sushi (really how to pick between those two, my absolute favs!) and then to the show! I'll let you guys know how it is!