Happy Tuesday Girlies! Worst day of the week but hopefully it will be Friday before we know it!
So..Day 3 of eating clean and giving up pop...I am DYING. I am not going to lie to you all I want is a cheesy piece of garlic bread and a diet coke. I caved and had a can of diet coke yesterday :( I still got all of my water in (close to a gallon) But the headached I was experiencing was unbearable! I know I will see results but trying to get off pop is the hardest part.
As far as the eating portion I'm getting sick of eating the same things. I want SALT! That is my other addiction is salt. I put salt on my food before I even try it because I somehow know it will need it. I'm getting used to all of these changes but two full days down and it could be worse I suppose. My goal is to make it through Saturday and then set my next goal after that.
Today I am liking with
Halie
for First things first
This weeks tops are as follows:
First thing I do at the gym-
I currently don't belong to a gym. I have a goal in mind when I reach a certain weight that I will join one but for now I workout in my basement. So the very first thing I do is to start my Ipod and start my Nike running App and C25k App for the treadmill. Sometimes I do RI30 first, but mostly I just get the running part out of the way first .
First Date with Current Significant Other-
Our first real date out was going to Outback Steakhouse (YUM!) and seeing the movie The Grey ( seriously depressing movie, It's like the writers decided hey lets think of every possible suffering way to die outside and put them all into one movie, seriously love Liam Neeson though)
First email address-
Oh dear, my first email was
kklove121407@yahoo.com
. I don't even remember the password for it anymore haha. Back in the day when we'd race home from school to get on AIM and talk to boys...those were the days lol
I am super excited about the next link up with
Trista
for the top Ten Beauty Must Haves!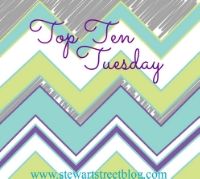 I wouldn't say my beauty routine is way extravagenet but there are a few things I cannot live without!
1.
Cerave Daily Facial Cleanser
- This shit is the bomb. Its not heavy and I use it to wash my make up off with as well. It's light, not greasy and I love it. You can get it over the counter at pretty much anywhere
2.)
Cerave Moisturizing Lotion-
I put this on right after I get out of the shower. My face can get kind of dry so this helps it stay moisturized obviously. It's not thick or greasy and my skin still feels like it can breathe. LOVE
3.)
Garnier Fructis Fall Fight Shampoo and Conditioner-
I just started using this stuff and it is amazeballs! I have thick hair. I mean really really thick hair, like enough for like 3 people. And because of that my hair falls out all over everything like a dog or cat. I started using this stuff and it works wonder! I no longer have stragglers on my coat etc.
4.)
Suave Dry Shampoo
. I LOVE dry shampoo! When you get done working out if you want to do two day hair you NEED this stuff. Just spray it far enough away but all over your roots on dry hair. It's pretty much a miracle. This shit is like $2 you can't beat that.
5.)
Mac Blacktracker Eyeliner
- Simply put, the best, been using it for years and I would never change
6.)
Loreal Double Extension Mascara-
This stuff will make your eyelashes a million times longer! It feels kind of heavy if you put too much on and it literally comes off in tubes when you take it off but it never leaves any black marks under your eyes and I love it.
7.)
Chapstick Lip Moisturizer
- Simply the best
8.)
EOS body lotion
This stuff is amazing! Not greasy and I put it on everyday!
9.)
Bobby Brown make up pallette-
This stuff I cannot live without. It lasts forever and there are such pretty shades
10.) Victoria's Secret Lip Gloss- I always put chapstick on first and this over the chapstick. I love this stuff, It's realtively inexpensive, last forever and looks great :)
And if that wasn't the longest post ever! Hopefully Today is a good day! Go joing the link ups!