Happy Monday Lovies!
Ugh here we are once again the start of a new week! Hopefully this one goes by fast since Valentine's Day is Thursday! I get that it's a hallmark holiday and really has no signifcance but this girl will never turn down romance, love, and all things pink! :) and I love it!
So weekend re-cap. Friday night I spent the entire night watching Bride Day episodes on TLC. Completely addicting.
Saturday I got up and worked out (even though I did NOT want to at ALL) went grocery shopping for the week and then headed over to get ready for the night with my besties A and C. And if you follow me on Instagram (which you definitely should!) These pics will look familiar
\
Dress is Target clearance $10 people! Now that's my kind of shopping! Shoes are Jessica Simpson that I got as a christmas gift and I'm kind of obsessed with them. They're pretty much amazing don't ya think?
Then we headed over to K's house Birthday Girl! Had some wine and got ready to head out. Aren't my friends beautiful?
We had an absolute blast! Sometimes a night out with the girls is just what a girl needs!
Sunday night was spent recovering from Saturday and I went to my cousin's 16th birthday party . My cousin has microcephaly (not sure on the spelling) Anyways they found out he had it the night before he was delivered and he wasn't supposed to live through the night. He is now 16 years old and truly is a miracle!
I did not workout on Sunday and may or may not have had mexican to help ease the pain from the awesomeness I had on Saturday. Oops! Good news is I am now focused more than ever to stay on top of my goals! This week is gonna be a good week! no more cheating!!
And to wrap up this extremely long post ( hey at least I have pics right? :) Ashlee from
iseminger chronicles
nominated for a liebster award! And who doesn't love answering questions about themselves right?
1. What was the happiest moment of your life?
So far I would have to say graduating from college. I graduated in 4 years and worked my bootay off to do it in that time. That and I was so happy to be done with school 4eva ha!
2. What are your hobbies?
I love to shop, watch movies, bake, BLOG, and trying new DIY from pinterest, and I'm trying to make running a hobbby
3. What is your dream job?
This was in my last post but Interior designer probably
4.What is one of your guilty pleasures?
Another one of my guilty pleasures is watching marathons of 48 hours hard evidence and dateline unsolved mysteries on TLC on Saturdays I think it is. I could literally watch 8 hours of it. I have nightmares but it's so addicting!
5. What is your favorite feature?
I really like the color of my eyes, they're green kinda hazel and have a little gold in them.
6. If you could change one thing about yourself what would it be?
I would be less critical of myself
7. If you knew you had 24 hours to live, what would you do?
Spend it with the people I love the most and telling them just how much I love them and how much they mean to me.
8. Why did you start blogging?
I love being able to connect with people from all over and sharing similar stories about our struggles, weight, goals etc.
9. What is one thing you could not live without?
Cheese! It should be a food group no joke
10. What is your favorite song?
This week its I love it from Icona Pop, so catchy! Otherwise I'm still really into want u back by cher lloyd, makes me wanna dance!
11. What is the worse thing you have ever eaten?
Probably beets. Ugh! I'm kind of a picky eater and I just cannot do that.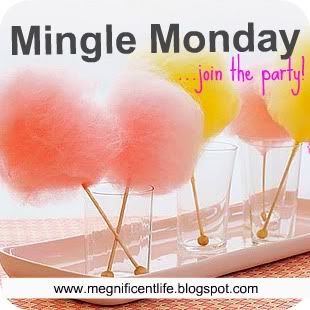 I'm also linking up with
Meg
for Mingle Monday! Did everyone watch the grammys last night?? All I have to say is JT is FINALLY back and thank the lawd! It has been LONG overdue! Am I right?
Well that's all for this post girlies! Here's to a good week!